Updated Monday, March 27
Officials have confirmed that the tornado affecting Rolling Fork, Mississippi Friday night was an EF-4 on the Enhanced Fujita Scale, This rating comes after the damage assessment done by the Jackson, MS National Weather Service. The maximum wind gust was measured at 170 mph. EF-4 gusts range from 166 to 200 mph.
The tornado was estimated to be on the ground for 59 miles during its 70-minute lifetime. The width was approximately 4000 feet.
The revised death toll is 21.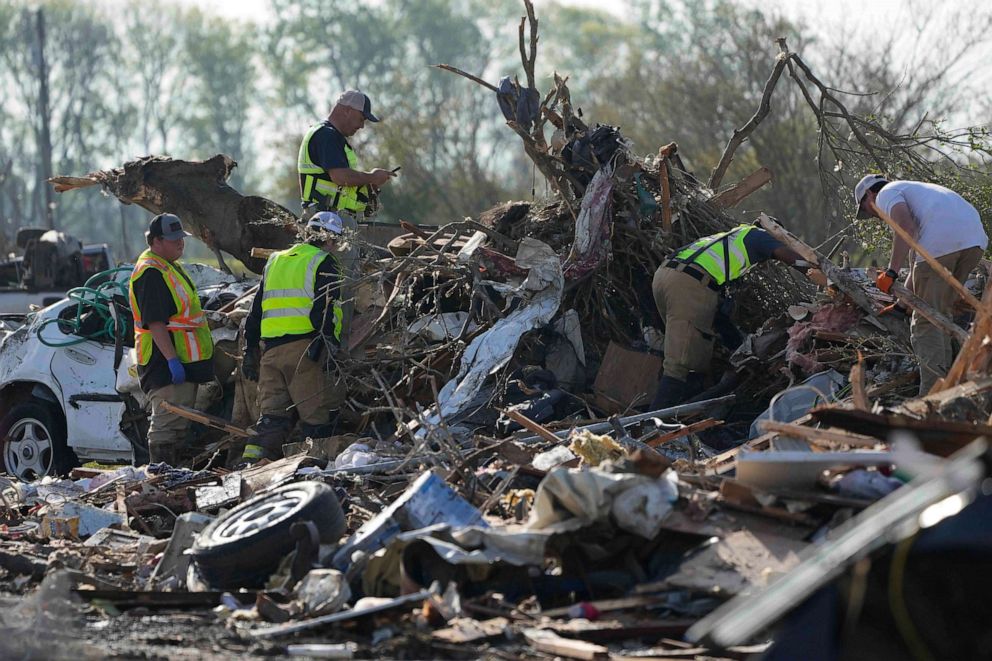 Saturday's morning first report:
AUSTIN (KXAN) — Reports Saturday morning indicate 23 people have died, four are reported missing and dozens are injured in Mississippi. Twelve of those who perished were in Rolling Fork, according to the town's mayor. Search and rescue teams are working with state and local agencies to find those who are trapped in the rubble. The 23 fatalities, with more expected in the coming hours and days, for now, ties for sixth place for the all-time deadliest tornadoes in the state.
The tornadoes knocked out the power and destroyed several buildings. Officials are indicating the damage extends for 100 miles. The storm system was reported as a supercell. These are the storms that create the deadliest tornadoes and damaging hail.
Rolling Fork is reported to be devastated with the mayor quoted as saying "my city is gone." The National Weather Service reported the tornado affected Rolling Fork first, then traveled northeast at 70 mph hitting Silver City. They indicated that the tornado did not weaken as it made its trek across this area.
The storms were so bad that some storm chasers are reported to have abandoned their chasing so they could drive the injured to local hospitals.
The storms affected Mississippi during the night when it's harder to detect thunderstorms that develop into tornadoes. The tornado that struck the two cities touched down in Rolling Fork around 8 p.m. In addition to its destruction in Silver City there was also damage in Black Hawk and Winona. Golf ball-size hail was also reported with the storm.
In all, the tornado traversed for approximately 170 hours and lasted over an hour.
Mississippi is no stranger to severe weather. Friday night's weather include high humidity and an unstable air mass that interacted with the upper-level storm system creating hazardous weather.
Meteorologists began predicting the tornado risk as much as one week in advance. While the risk did not pinpoint exactly where a tornado or tornadoes would hit, nevertheless, they did put out what is referred to a long-range alert several days in advance giving the needed advance warning.
There have been no reports of fatalities or injuries in Alabama. The Storm Prediction Center's Saturday morning storm report shows that the ten tornadoes did barn and other structural damage and downed trees.
Alabama and Mississippi were not the only two states to be afflicted. There are numerous reports of wind damage mostly in Tennessee but also in neighboring states Arkansas, Georgia, and Louisiana. A person was injured near Antioch, Tennessee when a tree fell on their house but the injury was reported as minor
Texas was spared any severe weather like was reported in the southeastern United States. Lightning was the main storm culprit Friday morning as there were no wind/hail reports from the Storm Prediction Center.
But the tragic weather that occurred Friday night in Mississippi and Alabama especially should serve as a reminder that you should always have a way or ways to get weather information when storms are forecast and ongoing.