Good morning, I'm Dan Gartland. Between the NCAA tournaments and the World Baseball Classic, this was one of my favorite sports weekends in a while.
In today's SI:AM:
🎂 Taking stock of the Sweet 16
If you're reading this on SI.com, you can sign up to get this free newsletter in your inbox each weekday at SI.com/newsletters.
Upsets abound
March Madness is living up to its reputation this year. As it stands now, with the men's Sweet 16 set and the women's second round only half over, three No. 1 seeds have already been eliminated between the two tourneys: the Purdue men (in a historic loss to No. 16 seed Fairleigh Dickinson that wasn't exactly out of character for the Boilermakers), the defending champion Kansas men and the Stanford women. The men's tournament also saw a No. 2 seed, Arizona, fall in the first round to No. 15 Princeton, which then blew out No. 7 Missouri in the second round to become the fourth team to reach the Sweet 16 as a 15-seed. Another No. 2 seed, Marquette, got bounced in the second round yesterday by No. 7 Michigan State. Here are a few teams I've got my eye on as the men's Sweet 16 begins Thursday and women's gets going Friday.
UConn men
The Huskies have had a puzzling season. After beginning the year 14–0, they went 11–8 down the stretch. Their pre-tournament 25–8 record isn't typically that of an elite team, but only three of those losses came by more than six points and none of them were by more than 11. It shouldn't be a surprise, then, that the underlying numbers suggest UConn is better than your typical No. 4 seed. The Huskies are currently ranked fourth overall in KenPom.
Kevin Sweeney is impressed with the second gear UConn has found in its first two tournament games, pointing out that when the Huskies make three-pointers, as they did against Iona and Saint Mary's, they're tough to stop. With Adama Sanogo and Donovan Clingan dominating down low and wing players like Jordan Hawkins hitting shots from the perimeter, UConn is tough to stop.
When the Huskies are playing like that, they don't need any help to make a deep run, but they got some when Arkansas knocked off Kansas in the second round. Instead of a Sweet 16 matchup with the defending champion No. 1 seed Jayhawks, UConn will face the No. 8 seed Razorbacks on Thursday in Las Vegas.
Iowa women
Speaking of teams whose path forward unexpectedly looks a lot clearer, the Hawkeyes are now the highest-seeded team left in their region after No. 8 Ole Miss upset No. 1 Stanford last night. Led by junior guard Caitlin Clark, the nation's third leading scorer and leader in three-pointers made per game, Iowa is headed to the Sweet 16 for the third time since 2019. Clark wasn't particularly efficient from the field in the Hawkeyes' second round win over Georgia (22 points on just 6-of-17 shooting, along with 12 assists) but Iowa had three other starters pick up the slack and score in double figures, including fifth-year senior Monika Czinano, who's third in the nation in field goal percentage this season. Iowa will face the winner of tonight's Duke-Colorado game in the Sweet 16 on Friday.
Kansas State men
Against all odds, the No. 3 Wildcats are the highest-seeded team left in their region. They'll face No. 7 Michigan State in the Sweet 16 on Thursday, while No. 4 Tennessee will battle No. 9 Florida Atlantic in the region's other semifinal. The Sweet 16 at Madison Square Garden will be a homecoming for K-State's star point guard, Markquis Nowell, a Harlem native who goes by @MrNewYorkCityy on Twitter. The 5'8" Nowell had 27 points and nine assists in K-State's win over Kentucky in the second round.
Princeton men
This year's men's Sweet 16 is a little unusual in that only one double-digit seed has made it past the first weekend. But man, it's a doozy. For the third year in a row, we have a 15-seed in the Sweet 16, and, after how Princeton played Mizzou in the second round, it wouldn't be the biggest shock to seed a 15-seed in the Elite Eight for the second consecutive year. Princeton's win over Arizona was a war of attrition in which neither team could buy a shot. But in Saturday's win over Mizzou, Princeton not only shot the ball much better (36.4% from three, compared to 16.0% against Arizona), but also improved upon the foundation of its success in its first-round game: rebounding. The Ivy League Tigers outrebounded the SEC Tigers 44–30 en route to a shockingly easy 15-point win. Princeton will get Creighton in the Sweet 16 on Friday, and, while the Bluejays have some good rebounders (6'7" guard Baylor Scheierman leads the team with 8.2 per game, while 7'1" Ryan Kalkbrenner averages 6.2), Princeton has shown a willingness to out-tough more talented opponents. We'll see if they can keep it up.
The best of Sports Illustrated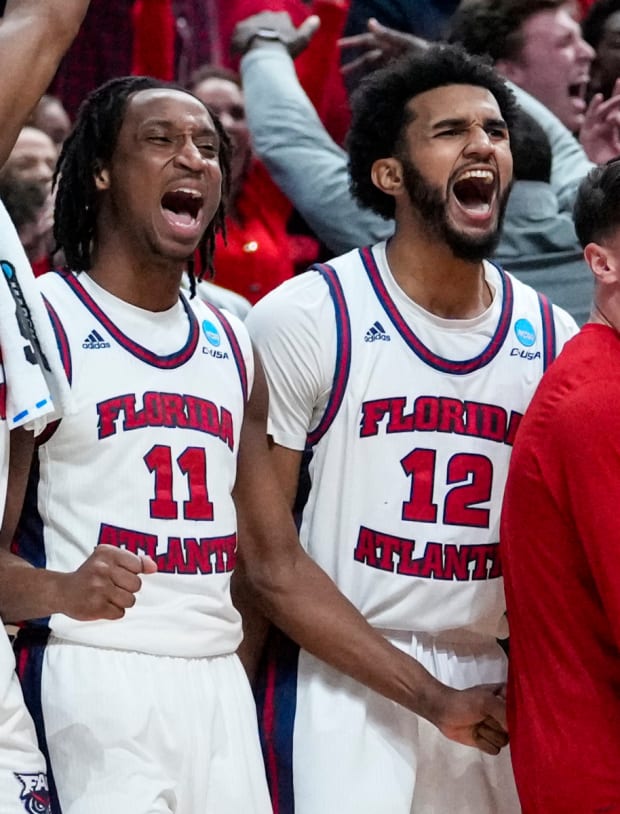 The top five...
… moments from yesterday's tournament action:
5. Kansas State's creative in-bound play that looked like a football screen pass.
4. Laeticia Amihere's powerful block and hustle to get the layup on the other end in South Carolina's win over USF.
3. Caitlin Clark's pull-up three from the logo.
2. Damion Baugh's long three at the buzzer that gave TCU a backdoor cover for the ages.
1. FAU guard Johnell Davis's accidental curse on live TV and sideline reporter Jamie Erdahl's response.
SIQ
On this day in 1934, famed all-around athlete Babe Didrikson became the first woman to pitch in an MLB exhibition game when she threw a scoreless inning for which team?
Yesterday's SIQ: Saturday marked the anniversary of the highest-scoring men's NCAA tournament game, a 1990 second-round matchup featuring Loyola Marymount and which other team?
Michigan
Wyoming
UNLV
Arkansas
Answer: Michigan. Loyola Marymount, a No. 11 seed playing just weeks after star forward Hank Gathers collapsed on the floor and died during the WCC tournament, pulled off the upset against the No. 3 seed Wolverines, 149–115. That's a combined 264 points.
The Lions played in all five of the highest-scoring games in men's tournament history, all between 1988 and '90. There have been 19 games in men's tournament history with a combined 200 points, and Loyola Marymount played in six of them. At the time, the Lions, led by coach Paul Westhead, were known for their frenetic pace. From '88 to '90, they led the NCAA each season in both points scored and points allowed.
In the first round of the 1990 tournament, Loyola Marymount beat New Mexico State, 111–92. Then came the record-setting game against Michigan. After that game, the Lions scored a Sweet 16 upset over No. 7 seed Alabama by the shockingly pedestrian score of 62–60. The Cinderellas met their match, though, in the Elite Eight against the eventual champion Runnin' Rebels of UNLV, 131–101, in the third-highest-scoring game in men's tournament history. Westhead left after the season to take over as coach of the Nuggets, and Loyola Marymount hasn't been back to the tournament since.