MIAMI—Back and forth he trotted from dugout to bullpen, sometimes carrying a glove, sometimes a water bottle, looking as if he should have been eating an orange slice with his Little League teammates, but just before the biggest moment of his life, Shohei Ohtani slowed to a stroll. His pants were dirty from trying to break up a double play after he legged out an infield single in the seventh inning. His hair was matted from his batting helmet. His right arm was loose from his warmup, fragmented by his at bats.
He is unlike the rest of us in nearly every way but this one: He too was hoping the World Baseball Classic title would come down to the two best players in the world, facing off for the first time.
Ninth inning, Japan leading the U.S., 3–2. If he got Jeff McNeil and Mookie Betts, Ohtani realized, the final out could come in the form of Mike Trout, his Angels teammate and the consensus best player in the sport before Ohtani came along.
"Two outs, no runners and Trout would be the best scenario," Ohtani said afterward through an interpreter. "Unfortunately, I walked [McNeil], so it was a little bit off the schedule of my plan, but it was O.K."
In center field, Lars Nootbaar slumped a bit. He had done the math an inning earlier. But once McNeil walked, Nootbaar thought, I guess the fairy-tale ending can't happen anymore.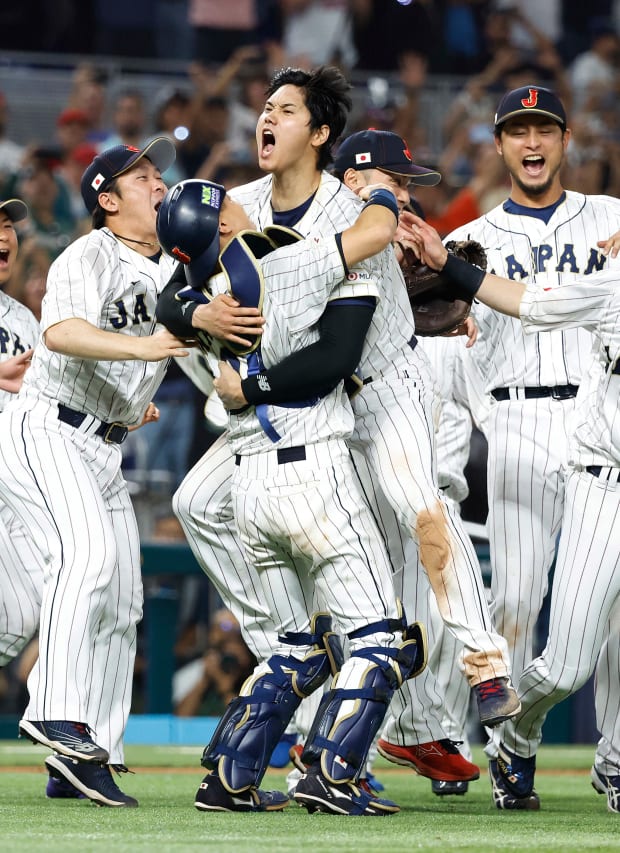 How often do we get what we all want? Rarely in baseball, when the rigidity of the lineup and the capriciousness of sequencing often mean that, in a key moment, the No. 8 hitter is striding to the plate. The best evidence of that might be Ohtani and Trout themselves: They have combined to win two of the past four American League MVP awards—Trout in center field, Ohtani at pitcher and DH—and finished second twice more, but in their five seasons together in L.A., they have never finished higher than third place, never enjoyed a winning season, never even played meaningful baseball after the All-Star break.
We have not gotten to see them on the October stage they deserve. We may never get to. But we got to see them this March, as they combined to hit .360, beat their chests after big hits and captain their teams to the final. And as soon as they committed to play here, anyone paying attention considered the possibility that the whole thing might come down to the two of them.
Indeed, every moment of the tournament seemed to conspire to produce this result. The heavily favored U.S. had to lose to Mexico in pool play; if the Americans had won, they would have met Japan in the semifinals. Great Britain had to beat Colombia for its first international win; if Colombia had won, the U.S. might have been eliminated entirely in the first round. The Angels had to request that Ohtani not start a game on the mound after the quarterfinals; if he had opened this one, he would have been gone by the mid-innings. And, in the ninth inning Tuesday, Betts had to tap the second pitch he saw to second base for a double play to erase McNeil.
Two outs, no runners and Trout.
"Do you think it was gonna end any other way?" Trout said afterward.
Trout took a deep breath and tried to catch Ohtani's eye. Ohtani ignored him.
"He's a competitor, man," Trout said. "That's why he's the best."
The first pitch was a slider just below the zone. The second was 100 mph at the thighs. The third was 100 with cut that took it just outside. The fourth was 100 right down the pipe; Trout swung nearly out of his shoes, then nodded in appreciation. The fifth pitch was 102 in the dirt. Three-two. Of course.
Ohtani then painted the outside corner with a slider. ("Very brave," Nootbaar said.) Trout swung through it.
"He won Round 1," Trout said with a smile.
The only thing Ohtani threw harder on Tuesday than those fastballs was his glove, which he tore off and spiked. He flung his hat at the ground and himself at his teammates.
"I believe this is the best moment in my life," he said afterward.
An hour later, his teammates' and opponents' eyes still widened as they discussed the matchup. It would have been incredible enough to see Ohtani face Trout as a starter. But that Ohtani played the whole game at DH and spent two innings hitting, then running to the bullpen to warm up, then running back to the dugout, then striking the guy out left them speechless.
"It was like a manga," said first baseman Kozuma Okamoto through an interpreter. "Like a comic book."
"What he's doing in the game is what probably 90 percent of the guys in that clubhouse did in Little League or in youth tournaments, and he's able to pull it off on the biggest stages," U.S. manager Mark DeRosa said. "He is a unicorn to the sport."
"The guy's Superman," said Nootbaar, who has observed Ohtani from afar as the Cardinals' left fielder but only got to know him during the tournament. "I'm out there playing outfield and I'm tired and he's going back and forth throwing pitches in the 'pen, running back, striding out base hits, hitting the ball [114 mph]. It's make-believe stuff that kids dream about. … He's playing a different game than everybody else is. That's what I've learned over these two weeks, that there may never be anything like this again."
Another thing Nootbaar learned is that Ohtani is good at just about everything he tries. Ohtani encouraged Nootbaar to download Clash Royale, Ohtani's favorite video game, then made fun of Nootbaar for being terrible at it. "I suck at it," Nootbaar said. "I can't win a game. I hand him my phone: Undefeated. This guy!"
Ohtani also gave motivational speaking a go before the game. The Japanese players had long looked up to the Americans, but they were just as good, he insisted. There was no reason to be intimidated.
"Let's stop admiring them," he said, according to the Los Angeles Times's Dylan Hernández. "If you admire them, you can't surpass them. We came here to surpass them, to reach the top. For one day, let's throw away our admiration for them and just think about winning."
His teammates roared in approval. Ohtani has always understood his own star power. He started the 2021 All-Star Game at pitcher and DH because, he said, "There's a lot of people that want to watch it and I want to make those guys happy." On Monday, he launched balls off the scoreboard during batting practice to send a message to Team Mexico: "If you leave a ball up there," he said, "that's what's going to happen."
But it was not that flair for the dramatic that caused him to amble slowly to the mound before the ninth inning. It was not anxiety or exhaustion. It was simply that umpires were looking at a replay of the out that ended the eighth and he worried the call would be overturned. He did not want to run to the mound and run right back to the bullpen. So it wasn't because he wanted to build suspense?
No, he said. Referring to the Mets' closer, whose slow jog while Narco plays is perhaps the most delicious walkout routine in the sport, Ohtani said with a smile, "Only Edwin Díaz is allowed to do that." So, along with mastering pitching, hitting, playing video games and public speaking, we can add: making jokes.
We may never see anything like this again. But we got to see it once.