There are few things more reliable in sports than emerging from the first weekend of the men's NCAA tournament feeling like you've just been on the prognosticating equivalent of an ill-advised bender. Taking stock of the poor decisions and unwise pronouncements, doing a damage-control assessment, stewing in regret—the hangover from bad bracket picks is real.
After the original 1–68 ranking from last week resulted in the usual mayhem—including team No. 68 winning more games than team No. 2—it's time to reappraise and rerank. Out with the old, in with the more enlightened 1–16 as we head into the second week of the Big Dance:
1. Alabama
Seed: No. 1 in the South Region
SI 1–68 ranking: No. 1
Not a thing happened in Birmingham last week to shake anyone's belief that the Crimson Tide are the team to beat. Controversy-dogged star Brandon Miller went scoreless in the first round, and Bama still put 96 points on the scoreboard. Miller was back on his game against Maryland in the second round, with 19 points and seven rebounds.
But here are the two most significant secondary developments for the Tide: Mercurial point guard Jahvon Quinerly has been both accurate and judicious with his shooting and passing, and 7-footer Charles Bediako continues to be an absolute tower at the rim defensively. The last seven Alabama opponents all have made less than 40% of their two-point shots, an incredible stat.
And the path through Louisville is not perilous, with the South Region's second, third and fourth seeds already gone. San Diego State can probably muck it up for a bit against the Tide and slow down their offense but lacks the firepower to win, and after that comes the Creighton-Princeton winner. It would be a shock if Alabama doesn't advance to its first Final Four.
Watch March Madness games live with fuboTV. Start your free trial today!
2. Houston
Seed: No. 1 in the Midwest
SI 1–68 ranking: No. 6
The Cougars' stock rose based on two things: the return of All-American guard Marcus Sasser to something approaching full health; and the powerful second-half punch they displayed to get out of a road-game atmosphere against Auburn in Birmingham. Houston at full strength is a worthy adversary for Alabama.
Sasser sat out the American Athletic Conference tournament championship game with a groin strain, then benched himself at halftime of the first-round game against Northern Kentucky due to the injury's lingering effects. But he was back in a starring role Saturday, scoring 22 points on just 14 shots against Auburn.
As he and point-guard sidekick Jamal Shead (hyperextended knee) continue to mend, Houston will regain its full-season form. But the Cougars have more options than them, with five-star freshman Jarace Walker showing his talent at both ends and wing guard Tramon Mark dropping a career-high 26 points on the Tigers.
Factor in coach Kelvin Sampson's tournament acumen, and Houston will be a tough out in Kansas City. But the competition will be rigorous, with Miami and possibly Texas looming as roadblocks to a hometown Final Four.
3. Texas
Seed: No. 2
SI 1–68 ranking: No. 4
The Longhorns showed their veteran poise and confidence Saturday when second-round opponent Penn State did what it does—claw back into the game for a tense finish. After absorbing a 10–0 run that turned a seven-point lead into a three-point deficit in the final five minutes, Texas responded with its own 10–0 run to reassume control.
Forward Dylan Disu has continued his outstanding play, averaging 22.5 points in the two tourney games. Over the course of Texas' past six games, he's made 43 of his 57 shot attempts, a scorching 75.4%—and they're not all dunks and layups. Disu's emergence has diversified what had been a guard-centric offense.
After taking out teams seeded 15th and 10th, the going will get tougher in Kansas City against Xavier and, with a victory, either Houston or Miami. But this is the same arena where the Longhorns just won the Big 12 tournament, so they should feel right at home.
4. Connecticut
Seed: No. 4
SI 1–68 ranking: No. 13
The Huskies are the big mover after a pair of dominant second halves in Albany, throttling Iona and Rick Pitino and then punishing Saint Mary's in Round 2. UConn once again looks like the team that started the season 14–0, with a beatdown of Alabama and six other power-conference opponents.
Powerful big man Adama Sanogo is building a case for being the player of the tournament, averaging 26 points and 10.5 rebounds through two NCAA games. If guard Jordan Hawkins keeps shooting well from the perimeter (7-of-12 from three-point range in the tourney), UConn will have a balance that is difficult to adequately defend.
Keep in mind that UConn historically does not mess around when making a Final Four. The Huskies have been to five and won four. Coach Danny Hurley could become the third (and third consecutive) UConn coach to cut down the nets. But the road to Houston is a doozy, with a semifinal against megatalented Houston and a potential regional final against either UCLA or Gonzaga, both of which have players and coaches who have been there before.
5. Gonzaga
Seed: No. 3
SI 1–68 ranking: No. 8
The owner of the nation's longest active winning streak (11 games) has found itself at the right time, and might be benefiting from the lack of hype and pressure that accompanied the past two Gonzaga teams. The Drew Timme Show, which has had a longer run than Cats on Broadway, continues—the colorful big man has produced 49 points, 14 rebounds, six assists and four blocks so far in this tournament.
But perhaps more importantly, an inconsistent supporting cast now has multiple contributors who have recently stepped up. Most intriguing (and surprising) might be guard Malachi Smith, a Chattanooga transfer who can be a microwave scorer if needed.
Legitimate questions remain about whether Gonzaga defends well enough to keep advancing, especially with UCLA looming as the next opponent. But by all means, bring on another Zags-Bruins NCAA tournament game, after playing a couple of classics in this century.

6. UCLA
Seed: No. 2
SI 1–68 ranking: No. 9
The Bruins are limping to Las Vegas. As soon as big man Adem Bona returned for the round of 32 after missing two games with a shoulder injury, veteran spot shooter David Singleton sprained an ankle in that game against Northwestern. And we know defensive stopper Jaylen Clark isn't returning after being injured at the end of the regular season.
Still, dismiss them at your own peril. Jaime Jaquez Jr. and Tyger Campbell remain on a mission to reach a second Final Four and try to win it all. Freshman Amari Bailey has stepped up since Clark's injury, averaging 16 points, 3.8 rebounds, 3.6 assists and 1.4 steals in his past five games. And coach Mick Cronin is still drawing up some of the nation's best defensive game plans.
The remaining road in front of UCLA is rugged. The Gonzaga game looks like the highlight of the third round. Whoever gets through that will have to contend with either Connecticut or Arkansas to reach Houston. The Bruins are capable, but it won't be easy.
7. Creighton
Seed: No. 6
SI 1–68 ranking: No. 20
The Bluejays' season arc isn't really an arc; it looks more like an EKG readout for someone with a bad heart. Ups and downs, high spikes and near flatlines. There was a six-game losing streak at one point, then an eight-game winning streak. Coach Greg McDermott probably overscheduled early, resulting in a December dive, and then there was a 4–4 struggle from Feb. 14 to March 10.
But the talent was always there, and it appears to be back in sync at just the right time. Creighton dispatched NC State and No. 3 seed Baylor with relative ease in the first two rounds, playing a dominant final 15 minutes against NC State and a full 40 against the Bears. The Jays guard well without fouling, shoot well and have a balanced offense with five double-figure scorers. Creighton's work developing Ryan Kalkbrenner from his freshman year until now, when the junior is averaging a team-high 15.7 points, 6.2 rebounds and 2.2 blocks, has been phenomenal.
If Creighton can dispatch Princeton on Friday, the potential Sunday matchup with Alabama could be juicy. The Jays might not have the athletes the Crimson Tide possess, but they'd have a shot at making the first Final Four in school history. Even reaching the regional final would be historic—the only time Creighton has been one of the last eight teams playing was 1941, when only eight teams were invited to the tournament.
8. Kansas State
Seed: No. 3
SI 1–68 ranking: No. 19
If you lack a rooting interest at this stage of the tourney—your bracket is in tatters, your favorite team is out—let me suggest the Wildcats. They wear a cool shade of lavender. Their coach, Jerome Tang, did not become a college head coach until age 55 (last year). Their leading scorer and rebounder, Keyontae Johnson, survived a near-fatal, in-game collapse in 2020 while a player at Florida. And they have the most enjoyable single player left in point guard Markquis Nowell.
He stands 5'8" (allegedly) and is completely fearless, possessing near-unlimited shooting range and passing creativity. His route to stardom runs from Harlem to Little Rock to Manhattan, Kan.—the Little Apple—and now back home to the Big Apple. He's averaging 22 points and 11.5 assists in the tournament, having carved up Kentucky in the second round.
Could K-State advance to its first Final Four since 1964? Absolutely. With the top two seeds dismissed, the East Region is wide open at this point. But the Wildcats have to handle Tom Izzo and Michigan State just to reach a regional final.
9. Michigan State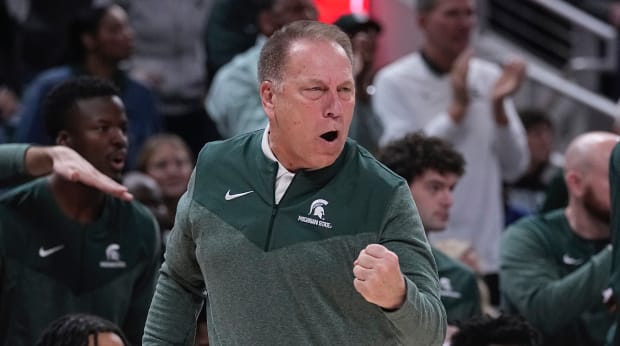 Seed: No. 7
SI 1–68 ranking: No. 25
Speaking of Izzo and the Spartans: Here they are again. This is now Izzo's 15th Sweet 16, moving into a tie for sixth most in NCAA history, and he's led Michigan State to eight Final Fours. Pound for pound, they have been the toughest out in the NCAA tournament in the 21st century.
This team is hardly without flaws. The Spartans are just 7-of-30 from three-point range through two rounds, which is 15th out of the 16 remaining teams in accuracy (23.3%). They aren't great inside offensively and don't get to the foul line a lot. They can have games where passing and dribbling become hazardous activities. But they're also simply hard to beat, more often than not.
Only one team or coach left in the East Region has been to a Final Four in the past 19 years. Will that bench experience be enough to get Michigan State to the last weekend yet again?
10. Miami
Seed: No. 5
SI 1–68 ranking: No. 22
Despite being 10th on this list, the Hurricanes could reach the Final Four. This is the best team LifeWallet could buy, with transfer/free-agent guard Nijel Pack arriving from Kansas State with a supposedly lucrative NIL deal via booster John Ruiz, and fellow guard Isaiah Wong also supposedly on the Ruiz payroll. Hopefully there was some money left over for post man Norchad Omier (31 rebounds in the tournament so far) and Jordan Miller (19 points against Indiana in the second round).
Coach Jim Larranaga is a March Sharpie. This is his fourth Sweet 16 with Miami, and of course there was the Cinderella Final Four run with George Mason in 2006. The Hurricanes got to a regional final last year before being steamrolled by eventual champion Kansas.
They're not great defensively, lacking the size to contest inside or keep opponents off the glass. But their athleticism and skill will challenge Houston. Wong was the ACC Player of the Year for a reason.
11. Arkansas
Seed: No. 8
SI 1–68 ranking: No. 28
Should the rest of the bracket be scared shirtless of the Razorbacks? Yes. This is your ultimate Sweet 16 wild-card team.
The Hogs possess NBA talent, size and depth, and have a coach who—when he keeps his shirt on—has made consecutive Elite Eights. They also cannot shoot from the outside, occasionally have too many cooks in the alpha male kitchen and are prone to losing composure. (Coach Eric Musselman's emotional geysers can work both ways, good and bad.) So far in this tourney, Arkansas appears to have decided that less of five-star freshman Nick Smith is better, while veterans Ricky Council and Davonte Davis step up.
The Hogs are just 6–of–26 from three-point range through two games, and that simply won't cut it against UConn. But they've suddenly begun hitting their free throws (Council has made 21 of 23 in the tourney), which could keep them in a close game against the Huskies.
12. Xavier
Seed: No. 3
SI 1–68 ranking: No. 15
No one needs to apologize for making the Sweet 16, but the Musketeers have received a break or two to be here. They were life and death to beat No. 14 seed Kennesaw State in the opener, then drew No. 11 Pittsburgh in the second round after the Panthers had come through Dayton and were playing their third game in five days. Now it gets more difficult against Texas.
But Xavier is a quality team that's had an unexpectedly strong season. They have five players averaging double figures, shoot a high percentage and pass the ball well. Four of the five starters have had a 20-point scoring game during either the Big East or NCAA tourneys so far.
Defensively, the Musketeers don't force many turnovers and allow opponents a fairly high shooting percentage from three-point range (35.5). But they also got the block that will live forever in Xavier lore from 7-footer Jack Nunge against Kennesaw if the Musketeers advance to their first Final Four.
13. Florida Atlantic
Seed: No. 9
SI 1–68 ranking: No. 18
These Owls epitomize the vagaries of March. They should have been seeded higher after a 31–3 season, drew a brutal opponent in similarly underseeded Memphis, but survived the Tigers in the final seconds. Then they nearly lost to No. 16 Fairleigh Dickinson. Bottom line: FAU has its first two NCAA tournament wins in school history and is the first Conference USA team to get this far since 2009.
Under coach Dusty May, FAU is deep and fast and aggressive, playing at a quick tempo and launching a lot of threes (59 in two games, most of any team still playing). The Owls beat Memphis with balance and beat FDU with one of the best individual NCAA tourney performances in recent years: Johnell Davis's 29 points, 12 rebounds, five assists and five steals in 34 minutes.
Can the Owls withstand the physical onslaught of Tennessee? A lot of that might depend on 7'1" center Vladislav Goldin and 247-pound reserve Giancarlo Rosado. This is a team accustomed to finding ways to win. Don't rule them out.
14. San Diego State
Seed: No. 5
SI 1–68 ranking: No. 31
The Aztecs have the bad luck of being in Alabama's bracket, but they are a quality program that has broken through after years of first-weekend losses. Having played Arizona, Arkansas and Saint Mary's this season, they've seen some size and athleticism.
As has been the case for more than a decade, San Diego State is an elite defensive team. They guard, rebound and play with enough physicality to keep teams from easily running their sets. Their past six opponents have averaged just 54.3 points.
The offensive end is more of a chore, and the lack of a strong interior game could be highly problematic against the Crimson wall that is Alabama in the paint. The Aztecs will likely need to frustrate Alabama from a tempo perspective and hit a higher-than-normal percentage of threes.
15. Tennessee
Seed: No. 4
SI 1–68 ranking: No. 48
One of the bottom five teams in this 1–16 ranking is going to the Elite Eight, with the Volunteers facing Florida Atlantic. There are reasons to like Tennessee in that spot, and reasons to dislike them.
What's to like: The Vols are less likely to freak out upon arrival in New York City, having already played there this season and been one of the most prominent teams in the country from November onward. They are absolutely vicious defensively, big and relentless, often discouraging opponents from even trying to score inside. And they actually made some shots Saturday in defeating Duke.
What's not to like: Hitting threes and free throws two games in a row could be a reach. So could a second straight monster performance from Olivier Nkamhoua, who tends to follow big games with quiet ones: the five previous times he has scored 20 or more points, he's averaged 7.4 the next game. A tightly officiated game could put FAU on the line all game. A lack of a point guard remains an issue that can bite at any time.
16. Princeton
Seed: No. 15
SI 1–68 ranking: No. 57
Somebody has to be last, and all the metrics say it's the Tigers. They're No. 91 in Ken Pomeroy's ratings, 59 spots behind the next-lowest Sweet 16 team (Miami). If you can lose to Delaware and Dartmouth, you have some weaknesses.
But let's be clear about how Princeton has played in recent weeks. The Tigers have stepped it up dramatically: significantly outplaying Ivy League regular-season champion Yale to earn the NCAA bid; making all the clutch plays to shock No. 2 seed Arizona; then dominating No. 7 Missouri. And the latter two wins were without making hardly anything from three-point range.
Is America ready for a second straight No. 15 seed from New Jersey to reach the Elite Eight? We'll see. But Creighton had better not show up in Louisville overconfident.