During an opening weekend that saw other title contenders fall victim to the madness of March, No. 1 Alabama flexed its dominance and now enters the Sweet 16 as the favorite to win the national championship.
Right behind the Crimson Tide is No. 1 Houston, which entered the NCAA Tournament with the best odds to cut down the nets, just ahead of Alabama at the time. The Crimson Tide and Cougars are the last No. 1 seeds standing and both are still well ahead of their toughest remaining competition in the futures betting markets.
The remaining field is comprised of No. 2 seeds UCLA and Texas; No. 3 seeds Xavier, Kansas State and Gonzaga; No. 4 seeds UConn and Tennessee; No. 5 seeds Miami and San Diego State; No. 6 Creighton; No. 7 Michigan State; No. 8 Arkansas; No. 9 FAU and No. 15 Princeton.
The Bruins, Huskies and Longhorns round out the top five teams by title odds and they're closely followed by the Bulldogs, who are headed to their eighth consecutive Sweet 16, and Bluejays. Those top seven teams all hail from the South, Midwest and West Regions.
Tennessee, which has the eighth-best odds to win it all, is the frontrunner in the East Region since No. 1 Purdue and No. 2 Marquette have both been eliminated.
Princeton, the third straight No. 15 seed to advance to the Sweet 16, has the longest remaining title odds. The Tigers upset No. 2 Arizona and No. 7 Missouri to set up their regional semifinal matchup with No. 6 Creighton in which they are a double-digit underdog.
Place your bets on the Men's NCAA Tournament on SI Sportsbook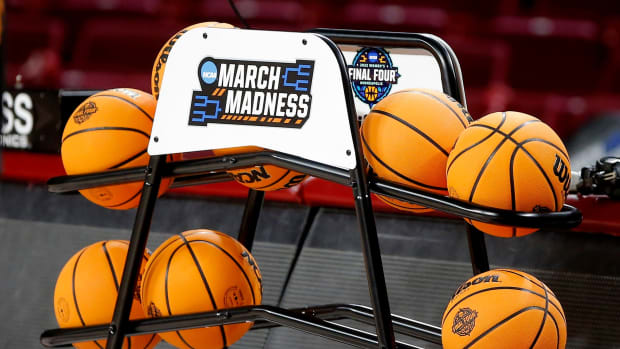 March Madness Updated Championship Odds
Alabama +350
Houston +390
UCLA +700
UConn +850
Texas +950
Creighton +1000
Gonzaga +1100
Tennessee +1600
Michigan State +2300
Kansas State +2400
Xavier +3200
Arkansas +3500
San Diego State +4000
Miami +4600
FAU +4600
Princeton +17000
If you or someone you know has a gambling problem and wants help, call the National Council for Problem Gambling 1-800-522-4700.