Good morning, I'm Dan Gartland. I can't decide which game tonight I'm looking forward to the most.
In today's SI:AM:
🏀 What's at stake in the NBA's Eastern Conference
🏈 Football plays on the basketball court
If you're reading this on SI.com, you can sign up to get this free newsletter in your inbox each weekday at SI.com/newsletters.
Who's going to Houston?
March Madness resumes tonight with the men's Sweet 16 as we inch closer to crowning a national champion on April 3 in Houston.
The four games tonight are, in order of start time: No. 3 Kansas State vs. No. 7 Michigan State (6:30 p.m. ET on TBS), No. 4 UConn vs. No. 8 Arkansas (7:15 p.m. ET on CBS), No. 4 Tennessee vs. No. 9 Florida Atlantic (9 p.m. ET on TBS) and No. 2 UCLA vs. No. 3 Gonzaga (9:45 p.m. ET on CBS). Here are the biggest narratives to keep an eye on tonight and tomorrow night as the field is whittled down to eight.
The underdogs
No. 15 Princeton is the only true Cinderella left standing, but that doesn't mean that there aren't more underdogs worth rooting for. The Tigers will face a battle-tested, sixth-seeded Creighton team Friday night that went 14–6 in a tough Big East this season. Princeton won its first two games without shooting the ball well (27.6% from three, compared to a season average of 34.4%), so if the Tigers can improve there while continuing to crash the boards effectively, we might have a 15-seed from New Jersey in the Elite Eight for the second straight year.
The next lowest seed remaining is No. 9 Florida Atlantic, which will face No. 4 Tennessee tonight at Madison Square Garden. The Owls survived against Memphis in the first round after a layup in the final seconds gave them a one-point win and benefited from Fairleigh Dickinson knocking out Purdue to make their second-round matchup a whole lot easier. And FAU got somewhat lucky in drawing Tennessee in this round, given that the Volunteers—who had national title hopes a month ago—lost star point guard Zakai Zeigler to a season-ending knee injury in late February. Pat Forde writes that the Vols "have become even more of a brass-knuckles team" since Zeigler went down but believes that FAU can pull off the upset if it matches Tennessee's physicality.
The other underdog to watch is actually the higher-seeded team in its Sweet 16 matchup. No. 7 Michigan State is a short betting favorite against No. 3 Kansas State tonight. It's tough to go against Tom Izzo in March, but there's a lot to like about the Wildcats. K-State's breakout player has been diminutive point guard Markquis Nowell, who is listed at 5'8", although Forde believes he's even shorter. Nowell is originally from Harlem and now has an opportunity to shine in the NCAA tournament at Madison Square Garden.
The No. 1 seeds
Alabama and Houston, the two 1-seeds left standing, should be safe in the Sweet 16, but this tournament has shown us that any team is liable to be upset. Both teams will be in action during the early window tomorrow evening (Alabama against No. 5 San Diego State and Houston against No. 5 Miami), and both will be feeling immense pressure to advance out of their respective regions. Kevin Sweeney believes the pressure is greatest on the Cougars, which entered the season with a championship-or-bust attitude and have an opportunity to play in a Final Four in their home city. Add to that the fact that a win over Miami and a No. 2 Texas win over No. 3 Xavier would set up an Elite Eight matchup of in-state rivals and you understand what Houston is facing. But Forde argues the pressure is higher for Alabama, and I'm inclined to agree with him. The situation surrounding the Crimson Tide, with star player Brandon Miller dogged by his connection to the murder of Jamea Jonae Harris (for which former Alabama player Darius Miles has been charged), is unprecedented for a team this close to winning a title.
A Final Four rematch
UCLA and Gonzaga will square off in the final game of the night tonight in what will be a rematch of their 2021 Final Four meeting and the continuation of the best basketball rivalry on the West Coast. That epic overtime game ended with Gonzaga's Jalen Suggs hitting a deep three at the buzzer to win it. Several key players from that game are still at their respective schools. The Bulldogs still have star forward Drew Timme and Anton Watson, who came off the bench in the '21 game but has started every game this season. For the Bruins, Jaime Jaquez Jr. and Tyger Campbell are still around. UCLA is missing one major piece, though. Pac-12 Defensive Player of the Year Jaylen Clark is done for the season with a reported Achilles injury. But even without Clark, the game should be a tight one, and, given the recent tournament history of the two teams involved, should be the most highly anticipated of the Sweet 16.
The best of Sports Illustrated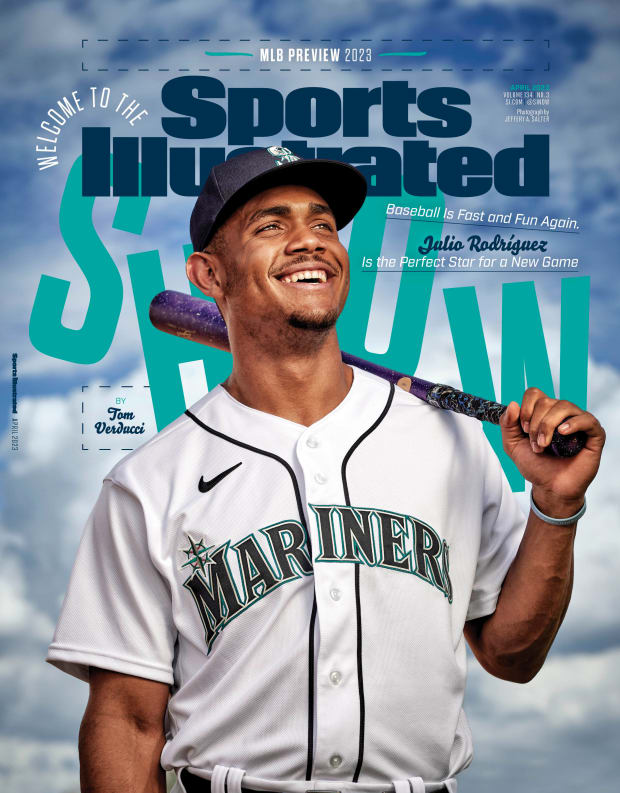 The top five...
… things I saw last night:
5. Connor McDavid's 60th goal of the season, an overtime-winner against the Coyotes.
4. Justin Harmon's ballhandling in Utah Valley's NIT win over Cincinnati.
3. Nikola Jokić's business decision on a powerful alley-oop by Daniel Gafford.
2. Sidney Crosby's backhand goal.
1. The high school softball player who fooled a catcher with the oldest trick in the book.
SIQ
A brawl between which two teams on this day in 1993 led the NBA to strengthen its rules against fighting?
Nets and Pacers
Heat and Pistons
Lakers and Kings
Knicks and Suns
Yesterday's SIQ: Despite his Seattle team losing to Kentucky in the 1958 national championship game, future NBA Hall of Famer Elgin Baylor was named the men's NCAA tournament's Most Outstanding Player. Since 1966, only one player has won the men's MOP award while playing for a team that did not win the tournament. Who was it?
Larry Bird
Derrick Rose
Gordon Hayward
Hakeem Olajuwon
Answer: Hakeem (then Akeem) Olajuwon. His Houston team lost to NC State in the title game on Lorenzo Charles's famous dunk at the buzzer in 1983, but Olajuwon earned Most Outstanding Player honors after averaging 18.8 points, 13 rebounds and 5.6 blocks per game during the tournament.
In Elgin Baylor's era, it wasn't uncommon for the MOP to come from a team other than the one that won it all. From 1953 to '66, nine of the 14 winners played for teams that didn't win the title. Then UCLA's Kareem Abdul-Jabbar (then Lew Alcindor) won the award three straight times, from '67 to '69, while the Bruins were in the midst of their preposterous run of 10 titles in 12 years. Since then only Olajuwon has won the award without also winning a championship that same season.