Here's a toy for every kid on your list
Toddlers love playing, and although it can be challenging to find time to play with them, there are plenty of excellent toys to help parents get started. We've scoured the web for the best gifts for toddlers, and while not every gift will be a hit with every child, we've rounded up a list of diverse toys for young children that both girls and boys will love.
Parents who want to get their kids into sports should consider gifting the EagleStone T-Ball Set, or there's the Learning Resources Pretend and Play Calculator Cash Register to help them learn to count. Plus, we have plenty of other deals on toys like building block sets, train sets, nighttime clocks, gardening tools and chalk.
Best play sets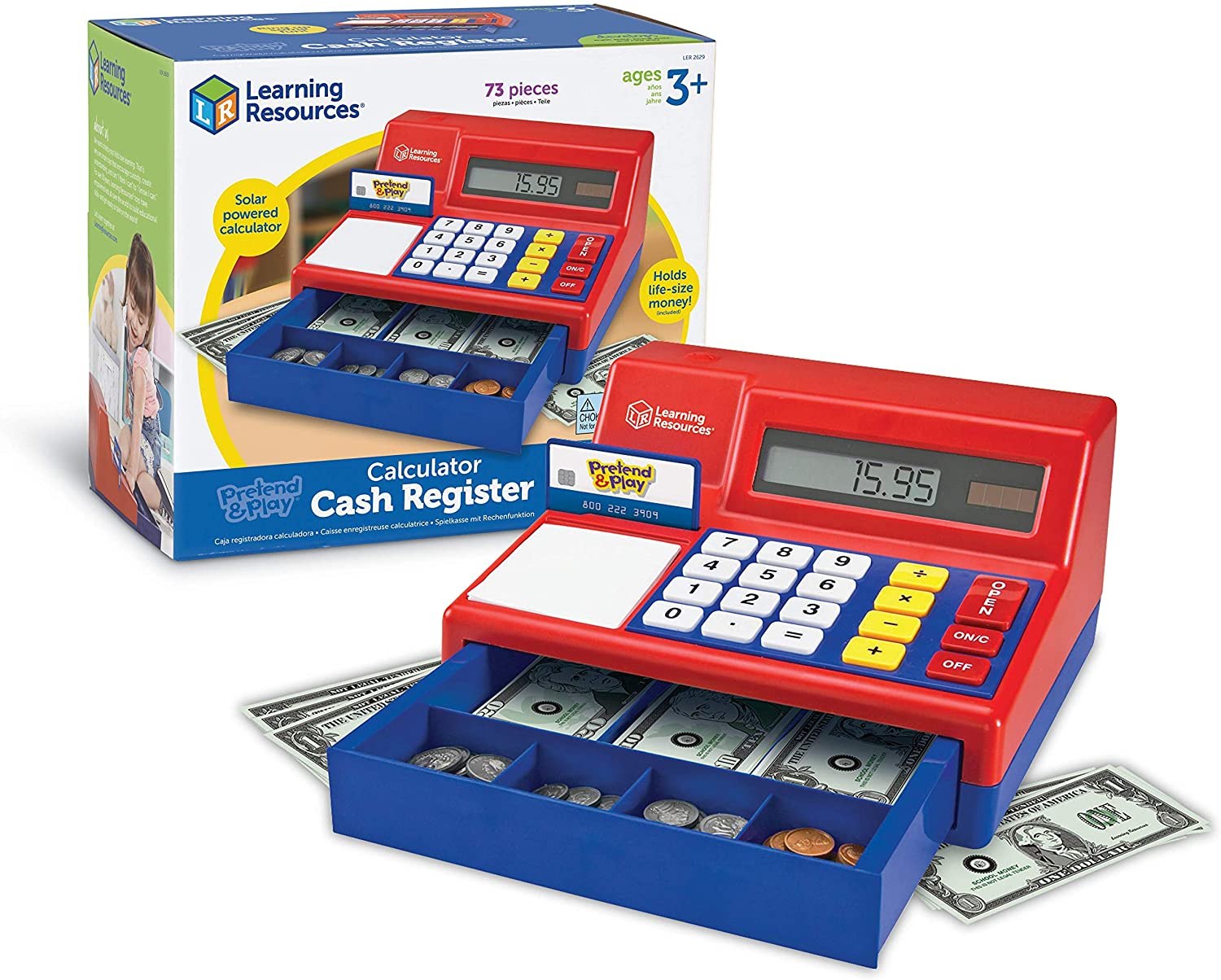 Learning Resources, Pretend & Play Calculator Cash Register
A comprehensive register toy that allows kids to learn basic money skills.
Sold by Amazon
This calculator and cash register toy is excellent for helping your child learn and develop basic math and money-handling skills. The calculator is solar-activated, and the set includes 30 pretend U.S. bills, 40 plastic coins, a credit card and an activity guide. The cash register has oversized buttons and a large display, making it easy to read the numbers.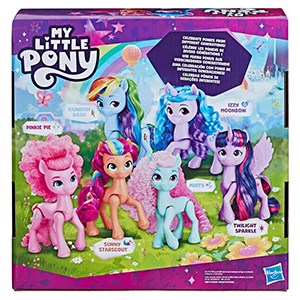 My Little Pony , Rainbow Celebration
This "My Little Pony" set comes with mini figures of characters spanning three generations of the timeless show.
Sold by Amazon
"My Little Pony" is a hit among young children thanks to its colorful, whimsical toys and entertaining TV series. This set features mini figures of popular characters from three "My Little Pony" generations, including Sunny Starscout, Izzy Moonbow, Twilight Sparkle, Pinkie Pie, Rainbow Dash and Minty. Each pony is 5.5 inches tall and has articulated legs and arms for different poses.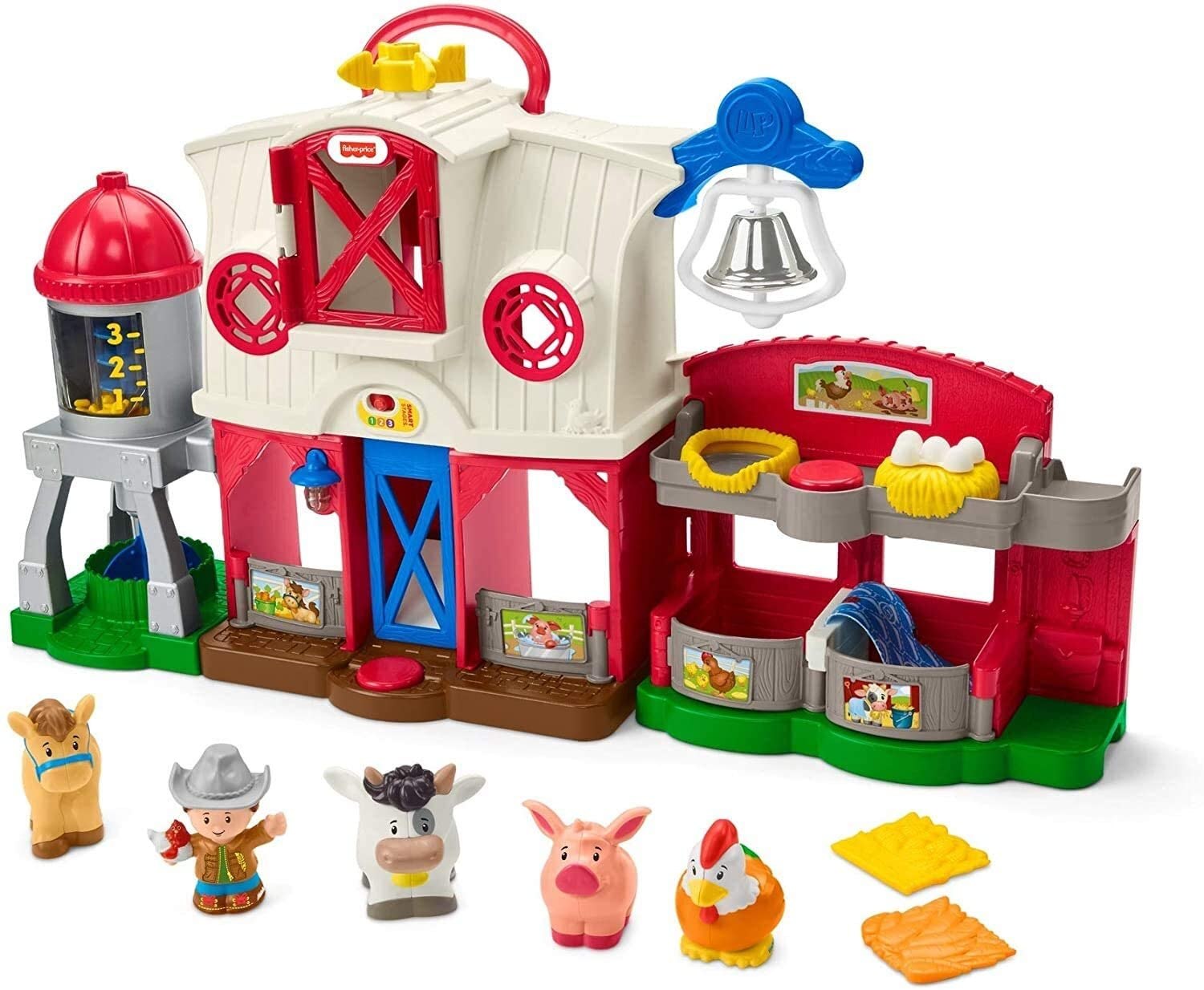 Fisher-Price, Little People Caring for Animals Farm
Our testers absolutely loved this toy for its fun sounds, multiple learning aspects, and durability thanks to high-quality materials.
Sold by Amazon
If your little one is crazy about animals, they'll love this animal farm electronic playset. This interactive toy farm features over five songs, sounds and phrases, and comes with a farmer figure, four animal figures and two food play pieces. There are several play points for increased interaction, and the three smart stage levels are excellent for helping kids learn counting and colors.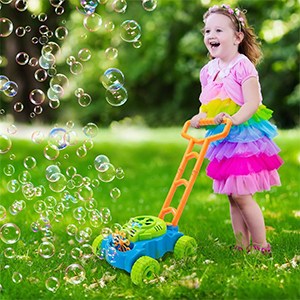 Your little one can enjoy a bubble show and join you in the yard as you mow the lawn and tend to the garden.
Sold by Amazon
Bubble toys are wildly popular among toddlers, making this bubble-blower lawn mower an excellent gift for young children. Your little one can join you while you do yard work and push around this brightly colored mower that blows bubbles as it moves. It has a flexible handle for easy maneuvering and comes with a bubble mower, three bubble solutions and three bubble sticks.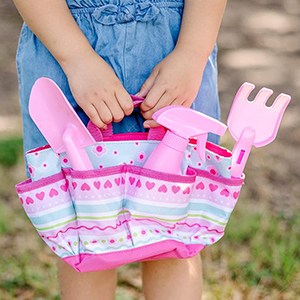 Melissa & Doug , Sunny Patch Pretty Petals Gardening Tote Set
Encourage a green thumb early on with this cute set.
Sold by Amazon
Kids who want to lend a helpful hand while you do your gardening will love this set. The kit comes with a tote made from durable fabric for withstanding wear and tear in the yard and three child-sized gardening tools: a shovel, rake and spray bottle. Plus, the bag is brightly colored and patterned, and the tools are made of plastic that's easy to wipe off and clean.
Best sensory toys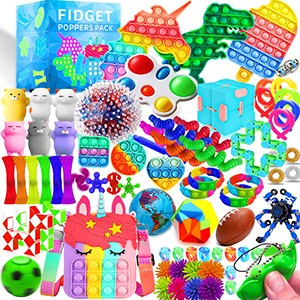 These fidget toys help relieve stress and make for excellent party favors.
Sold by Amazon
This comprehensive set of fidget toys is perfect for party gifts or stocking stuffers and helps improve focus and relieve stress. It has 120 fidget toys, including pop bubbles, stress balls, flip chains, mochi squishies, six stretchy string fidgets, mesh and marble sensory toys, and snake cube twists. These highly durable and crack-resistant toys come in various shapes, colors and sizes.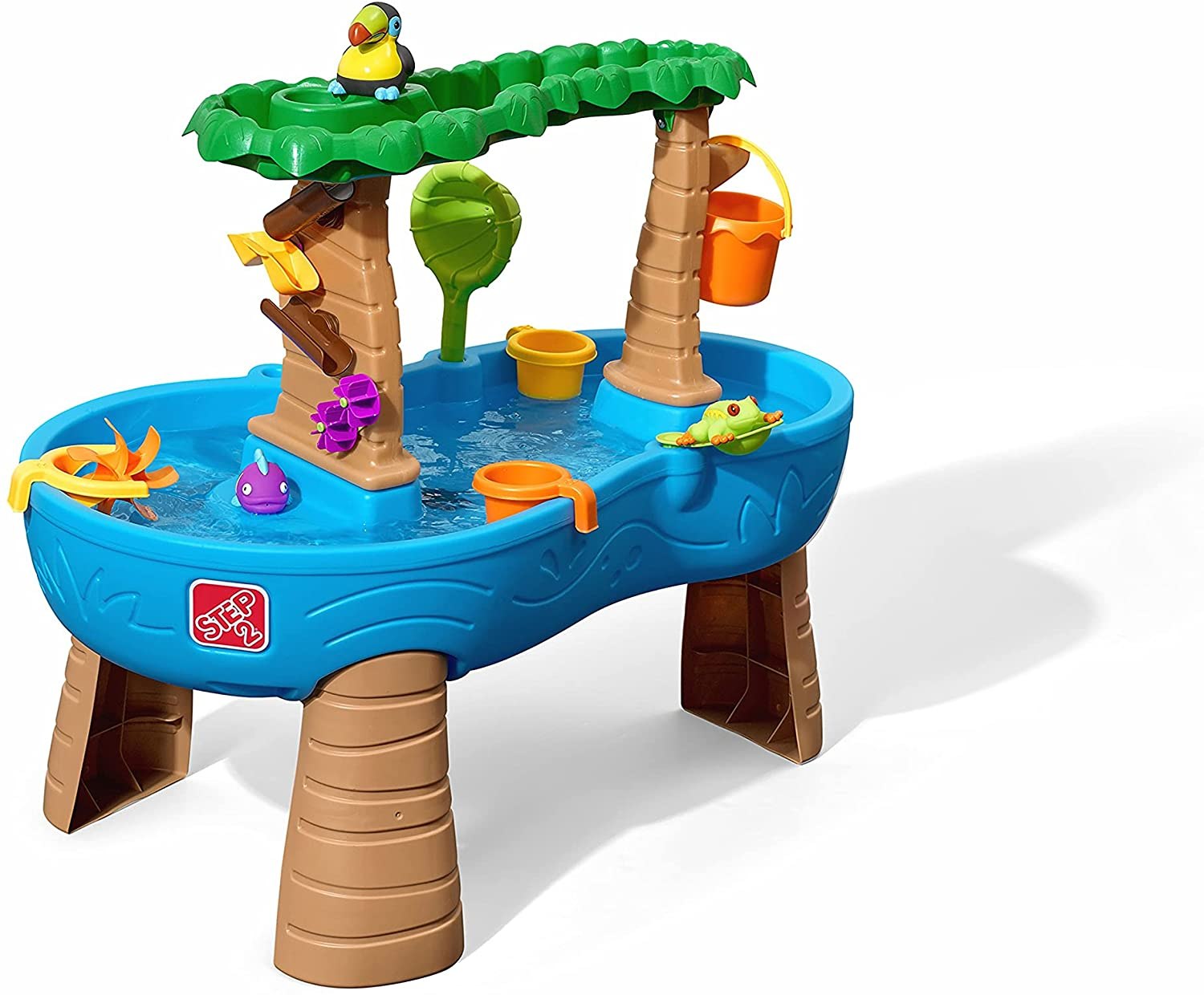 Step2, Tropical Rainforest Water Table
Engaging water table includes well-thought-out features and toys that are great for developmental and fun, sensory water play.
Sold by Amazon
This water table is an excellent toy for outdoor fun in the summer and boasts a large footprint that lets several kids gather around it and play together. It has molded-in tropical rainforest details and 13 accessories, including a tree-frog, toucan and tropical fish squish toys. The plug at the base allows for easy drainage after play, and the double-walled plastic construction makes it highly durable.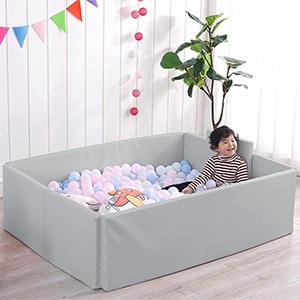 TRENDBOX , Super-Large Soft Foam Ball Pit
They'll have a ball (many, in fact).This ball pit provides a safe, enclosed space for kids to have fun.
Sold by Amazon
A ball pit is an excellent place for children to play safely, making it an excellent buy for active toddlers. This ball pit has walls made from high-quality memory foam and finished with eco-friendly, nontoxic polyurethane leather. The waterproof surface makes wiping and cleaning spills and stains easy, and the lightweight, foldable design makes storage more manageable.
Best building toys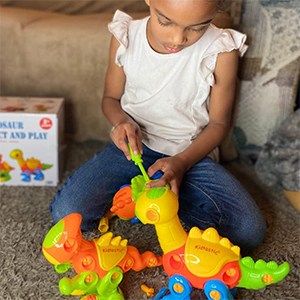 Kids who love dinosaurs and putting things together will love this dinosaur-building play kit.
Sold by Amazon
Children passionate about dinosaurs will have lots of fun with this build-a-dinosaur play set. It's a three-piece pack of dinosaur toys with 106 pieces that can be combined with a screwdriver to build different designs. This toy set promotes hand-eye coordination, motor skills and imaginative thinking and is perfect for children ages 3 to 6.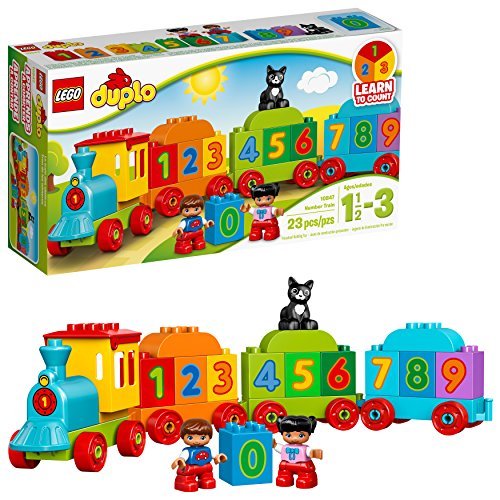 LEGO DUPLO, My First Number Train
An enduring favorite among kids and parents, this affordable locomotive is ideal as a first set, as an intriguing add-on, or as a gift for toddlers.
Sold by Amazon
If you want to get your toddler into building toys, we recommend this train set. It features a buildable locomotive, three wagons, bricks with numbers for building, two child figures, and a cat figure for imaginative role-playing. It's an excellent toy for helping kids learn counting and numbers, and the colorful blocks help develop motor skills.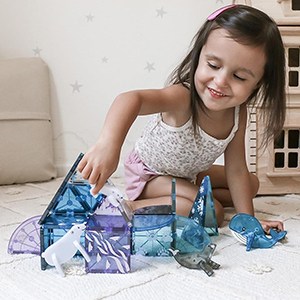 MAGNA-TILES , Arctic Animals 25-Piece Magnetic Construction Set
A STEM-certified toy that's great for helping kids develop motor and cognitive skills.
Sold by Amazon
This STEM-certified toy is excellent for helping kids develop fine-motor, cognitive, language and social skills, as well as teamwork and creativity. It comes with five figurines of different arctic animals, eight small squares, eight triangles and four quarter circles, and the tundra-themed tiles and footprint details give the magnetic board an arctic feel and design for imaginative play.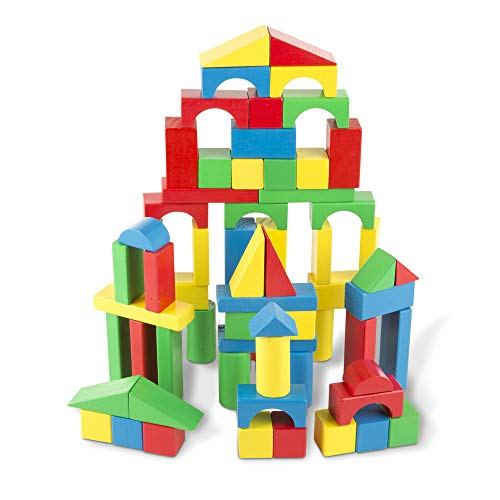 Melissa & Doug, Wooden Building Blocks Set
Open-ended play has never been more fun than with this wooden block set. A solid deal on a toy your child will use for years.
Sold by Amazon
Although it's a basic building-block set, we recommend it for younger children who need a helping hand in developing their fine-motor skills. The set features 100 lightweight wooden blocks in four colors and nine shapes, and they have smooth, rounded-out edges, so kids don't have to worry about splinters and sharp corners. Plus, these blocks are compatible with the Melissa & Doug Wooden Latches Board.
Best sports toys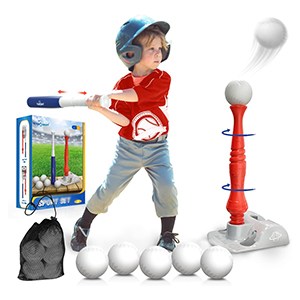 Teach your toddler the basics of baseball without the pressure with this T-ball starter set.
Sold by Amazon
It's never too early to get your kids into sports, and this T-ball set is one of the best ways. T-ball teaches kids the basics of baseball without the pressure, and this set has an adjustable height mechanism, making it suitable for kids ages 3 to 8. It comes with an oversized bat, six plastic tee balls, a mesh carrying bag and accessories for a bonus ring-toss game.
Little Tikes, Easy Score Basketball Set
If you are looking for an inexpensive Little Tikes toy that's durable and will offer years of fun activity, this is a good option.
Sold by Amazon
Shooting hoops with the kids is a great way to spend time with them, but regulation nets aren't suitable for toddlers, so we recommend this Little Tykes basketball hoop. It has an oversized rim with junior-sized basketballs, an adjustable height lever that ranges from 2.5 to 4 feet and a base that can be weighed down with sand for improved stability.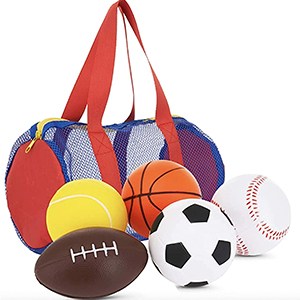 Neliblu , Foam Sports Toys and Bag
Nobody gets hurt. Play soccer, basketball, tennis, football and baseball with your kids with these soft foam sports balls.
Sold by Amazon
If you want to get your little one into sports at a young age but you're not sure which sport they might excel in, it's a good idea to get them this foam sports ball set. It includes a mesh carry bag and several foam balls, including a tennis ball, baseball, football, basketball and soccer ball, each with a 3.5-inch diameter for easy handling.
Best outdoor toys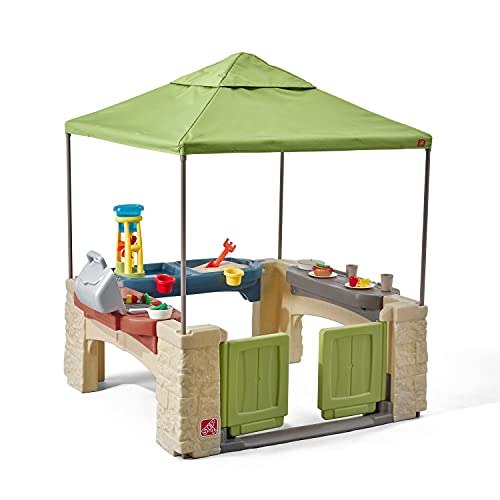 Step2, All Around Playtime Patio with Canopy
Packed with accessories and features, this patio-themed playhouse can keep several children entertained at once.
Sold by Amazon
Kids can have fun outdoors during the summer with this patio and canopy play set. It has an open-pavilion style for a charming look and easy access, and the sand-and-water-play area has several accessories and a lid. Plus, there's a pretend kitchen sink with a faucet and a grill for kids to play fun, imaginative cooking games.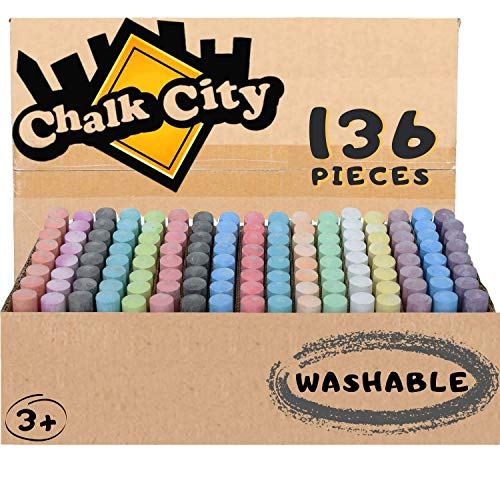 Chalk City, Jumbo Chalk, 136 Count
This huge set of chalk is perfect for the budding graffiti artist.
Sold by Amazon
Chalk might seem like an old-school option, but it's excellent for kids who want to tap into their artistic side and have fun outdoors. This pack comes with 136 large colorful chalk pieces in 17 colors, each being 4 inches long and having a tapered design to prevent rolling. They're nontoxic, wash away easily, and come in a convenient plastic travel case.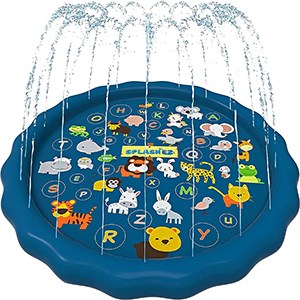 Your kids can cool down on hot summer days on this splash pad featuring neat learning designs on the surface.
Sold by Amazon
Staying cool in the summer can be challenging, but this splash pad is an excellent way for your kids to cool off on a hot day while having fun. It's an inflatable pad with a 60-inch diameter, and the surface is chock-full of letters and colorful animal designs for fun learning. Plus, there are several fountain sprinklers positioned around the pad.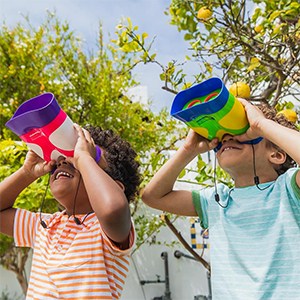 Educational Insights , GeoSafari Jr. Kidnoculars
Gift your child these binoculars to make exploring the great outdoors even more fun.
Sold by Amazon
Kids with curious minds can explore nature and the great outdoors with these binoculars. They have comfortable eyepieces three times the size of standard kids' binoculars and offer two times magnification. The breakaway neck strap makes carrying them around convenient and prevents accidental dropping or misplacing. Plus, they're focus-free and don't require batteries.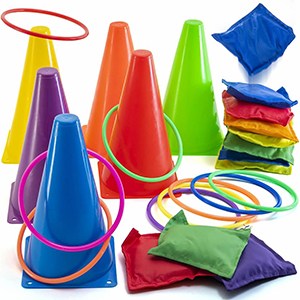 Prextex , Multicolored 3-in-1 Yard Game Set
You'll get three games with this outdoor game set, including cornhole and ring toss.
Sold by Amazon
Spice things up in the yard with this nifty yard game set. With this set, you can play a couple of games of ring toss and cornhole or toss beanbags to see who gets closest to the cone. Every piece is waterproof and weather-resistant, and the colorful designs make them suitable for parties, picnics, beach days and other outdoor gatherings. Plus, they come in a lightweight carrying bag for portability
Best toddler tents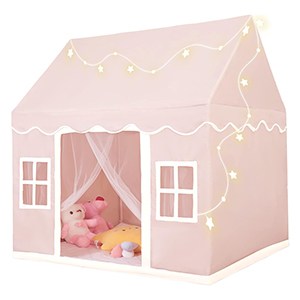 Imaginative kids can have hours of fun playing inside this tent.
Sold by Amazon
This tent is a fantastic gift for children with highly creative and imaginative minds. It's large enough to accommodate three to four kids at a time, can be set up within 10 minutes and features star-shaped lights and a padded mat. It's an excellent hiding place for hide-and-seek games and makes for a suitable napping area.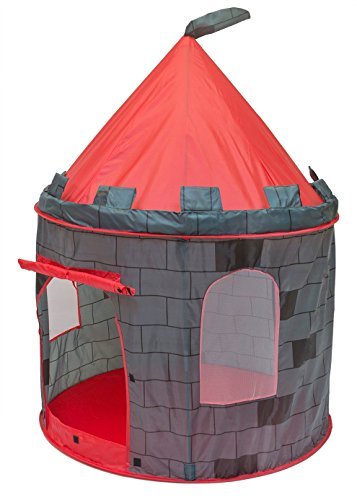 Click n' Play, Knight's Castle Play Tent
This is a fun choice for little ones wanting to slay dragons or rescue damsels in distress.
Sold by Amazon
If your children want a tent with a medieval look, you can't go wrong with this castle play tent. It's lightweight, easy to assemble and has a foldable design for easy storage. The mesh windows promote air circulation and keep bugs out, and the four included pegs provide superior stability, so it doesn't collapse while the kids play.
More of the best toddler gifts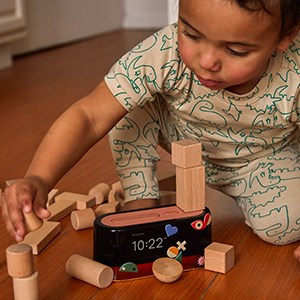 Kids who have trouble falling asleep can benefit from this clock, which features sounds to help them drift off to sleep.
Sold by Amazon
Kids having trouble falling asleep will feel at ease with this children's clock. There are many sounds to lull your child to sleep, and the night light is a cozy addition. Plus, it has Bluetooth, so you can pair your phone and listen to whatever you or your child want.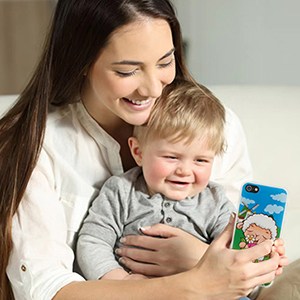 Wolmund , Toy Learning Play Cell Phone
This play smartphone is excellent for toddlers as it features eight play modes for keeping them entertained.
Sold by Amazon
More and more children are learning to use smartphones and tablets at a young age, but getting them this play phone is a good idea before they use the real thing. It features eight modes for learning and playful interactions, looks like an iPhone and has a compact design that fits comfortably in any toddler's hands.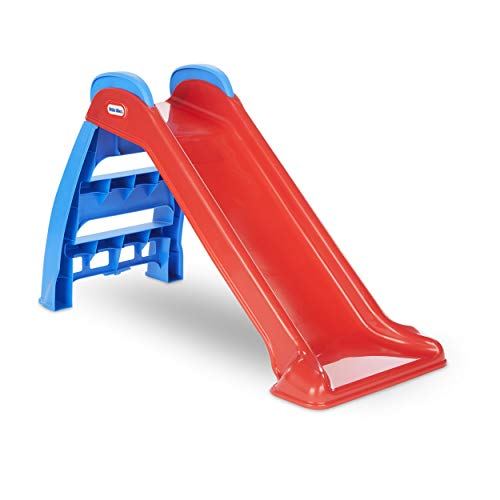 A playground favorite that won't break the bank. An unbeatable choice for the money.
Sold by Amazon
Some parks and recreation grounds don't have slides suitable for toddlers, but you can provide fun for your toddler at home with this mini slide. It's a 3-foot-long beginner slide for children over 18 months, and its compact design makes it suitable for indoor and outdoor play. Plus, it folds down easily without needing tools for convenient storage.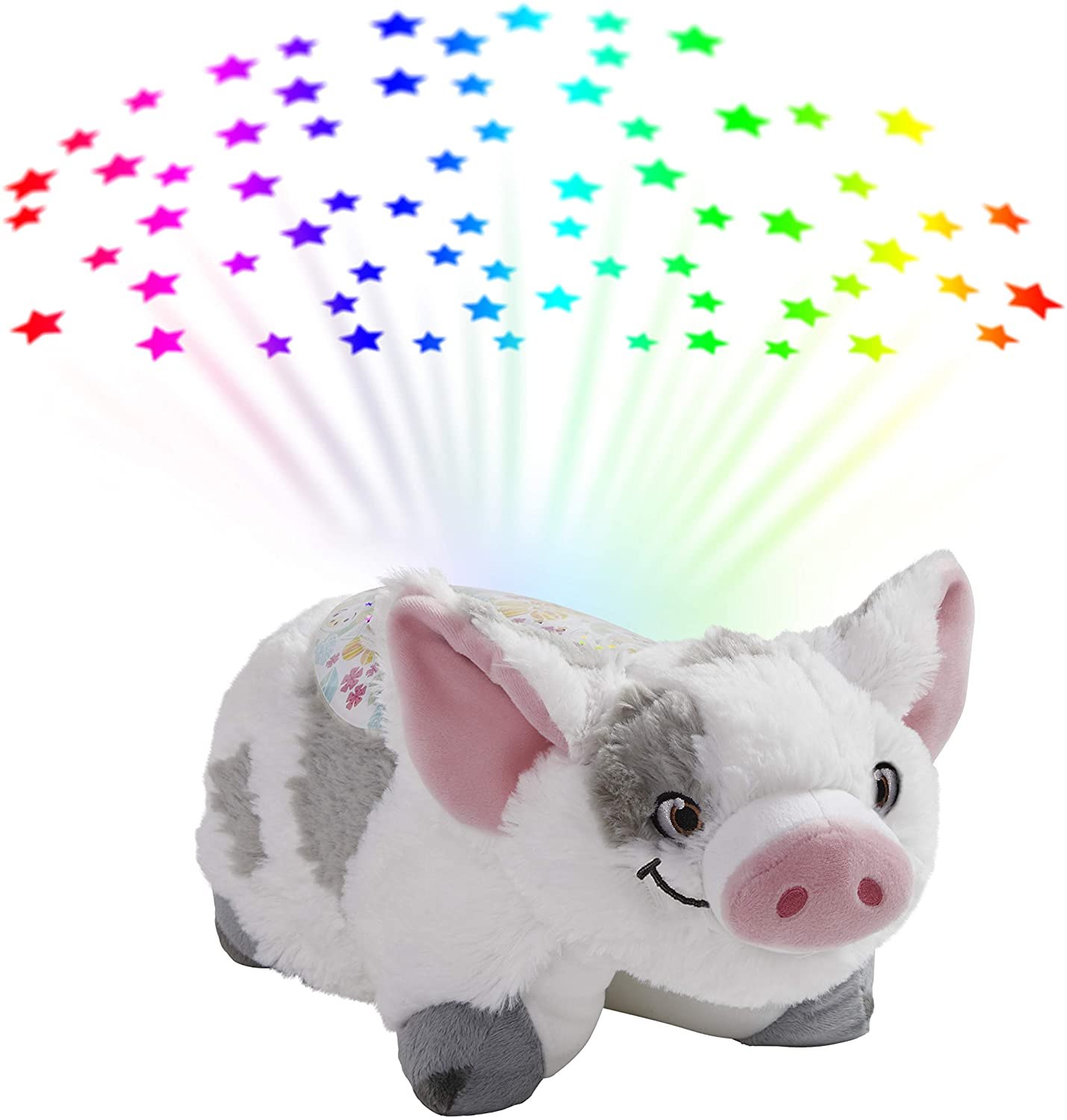 Pillow Pets, Disney Moana Pua Pillow Pet with Sleeptime Lite
Soft fur, fun lights and an auto-shutoff feature that conserves battery life.
Sold by Amazon
A cuddly nighttime buddy is perfect for toddlers who have trouble falling asleep. This plush stuffed toy doubles as a night light with an artistically designed glowing light cover that projects a dazzling rainbow star display onto the ceiling. It soothes kids before bed, gives them a sense of security, and features three light modes and a built-in timer.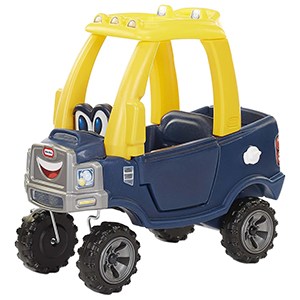 Little Tikes , Cozy Truck Ride-On
Toddlers can ride around on roads, grass and rocky terrain in this stylish ride-on truck.
Sold by Amazon
This ride-on truck is perfect for kids who want to traverse rugged terrain outdoors. It has a durable build, a drop-down tailgate, removable floorboards and oversized off-road wheels. It also has other neat details, such as an opening gas cap, a steering wheel with a horn, an opening and closing driver door, and a front grill for a stylish look.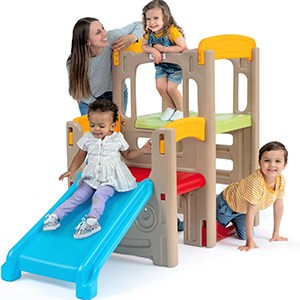 Simplay3, Young Explorers Adventure Climber
Bring the playground to your home with this play set, featuring a slide, ladder and a crawl space.
Sold by Amazon
This play set is excellent for parents who want to let their kids play on slides and ladders at home. It has a wide-grip slide with easy-grip rails for added safety, a ladder leading to a two-tiered platform, a play driving wheel and a crawl space. The double-wall plastic construction is durable, weather-resistant and easy to clean.
Want to shop the best products at the best prices? Check out Daily Deals from BestReviews.
Sign up here to receive the BestReviews weekly newsletter for useful advice on new products and noteworthy deals.
Kevin Luna writes for BestReviews. BestReviews has helped millions of consumers simplify their purchasing decisions, saving them time and money.
Copyright 2023 BestReviews, a Nexstar company. All rights reserved.